Marwieh is accused of selling more than $5 million in pension-linked investments and real estate development notes to clients.
The Sonn Law Group is investigating allegations that Gus Marwieh committed fraud. If you or a family member has suffered losses investing, we want to discuss your case. Please contact us today for a free review of your case.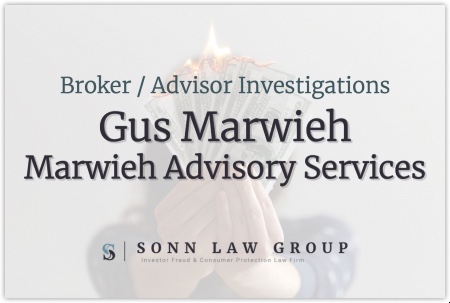 According to a news release from the Texas State Securities Board ("TSSB"), Gus Marwieh, president of Marwieh Advisory Services in Austin, Texas, had his registration revoked for the fraud-related sale of pension-linked investments and real estate development notes.
The release stated that Marwieh fraudulently sold over $5 million of investments without disclosing excessive commissions, misuse of client funds, and conflicts of interest. 
After inspecting Marwieh's books and records, the TSSB discovered that Marwieh primarily recommended investments in either Future Income Payments (FIP) supposedly based on payouts from pensions and promissory notes from real estate developers which were supposed to pay 18% annually. 
The TSSB also discovered that Marwieh collected commissions on sales of these two products in excess of $300,000 and violated his fiduciary duty by not disclosing conflicts of interest to his customers and by using escrowed funds to pay personal expenses. 
Marwieh consented to the Oct. 11 Disciplinary Order, which revoked the investor adviser registration of Marwieh Advisory Services and the investment adviser representative registration of Marwieh.
Contact Us Today
The Sonn Law Group is currently investigating allegations that Gus Marwieh misused investor funds. We represent investors in claims against negligent brokers and brokerage firms. If you or your loved one experienced investment losses, we are here to help. For a free consultation, please call us now at 866-827-3202 or complete our contact form.