Newport Coast Securities has since been expelled by FINRA.
The Sonn Law Group is investigating allegations that Gregory McCloskey committed misconduct. If you or a family member has suffered losses investing, we want to discuss your case. Please contact us today for a free review of your case.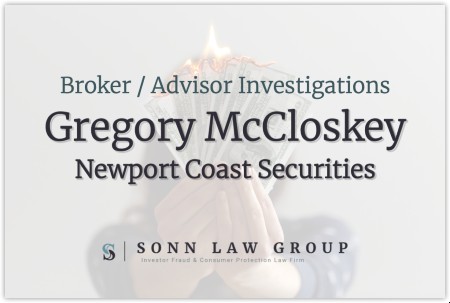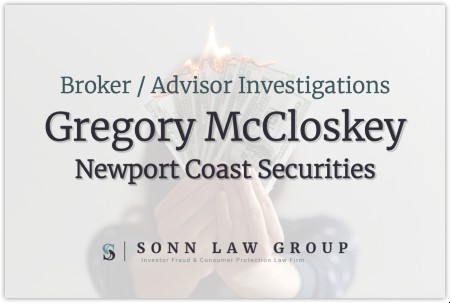 Gregory Walter McCloskey (Gregory Meier) (CRD#: 2820510) was previously registered as a broker with Newport Coast Securities from 2007 until 2016. In June 2018, Newport Coast Securities was expelled by FINRA. McCloskey was later registered with Westpark Capital from 2016 until 2019. 
On December 1, 2020, McCloskey was named in a complaint filed by FINRA alleging that he participated in two undisclosed private securities transactions (PSTs) involving a customer, who was an elderly, retired widow, and then sought to conceal these transactions from his member firms and FINRA. 
FINRA's complaint alleges that McCloskey solicited the customer to purchase $20,000 in shares of stock of a company without disclosing the transaction to his member firm. The customer's investment in the company took place outside the regular "course or scope" of McCloskey's employment with the firm. The customer's investment in the company eventually surfaced because she sent a written complaint to McCloskey at his firm business address about her investment.
The customer's complaint prompted McCloskey to participate in a second PST. To appease the customer and further attempt to conceal his misconduct, McCloskey also arranged to have his sister purchase the customer's $20,000 investment in the company's stock. McCloskey failed to disclose this PST to his firm as well. 
In connection with FINRA's investigation that led to a previous AWC, FINRA requested that McCloskey provide a list of all firm customers who invested in the company, whether or not he participated in the purchase. McCloskey provided FINRA with a signed response to the request in which he identified three of his firm customers by name as the only firm clients who made their own direct investments in the company.
McCloskey failed to identify the customer described above as one of those customers. During subsequent on-the-record testimony, McCloskey identified the same three customers he had identified in his written response and again omitted the customer described above. 
The complaint further alleges that McCloskey attempted to obstruct FINRA's investigation. During a phone call, McCloskey urged the customer to create and sign a false written statement indicating that McCloskey did not participate in any manner in the customer's $20,000 investment in the company's stock. In exchange for the written statement, McCloskey offered to let the customer keep the $20,000 she received from his sister in the PST and to keep her shares of stock in the company. The customer refused. 
In addition, the complaint alleges that McCloskey used an unapproved email address for securities-related communications with the customer. As a result of McCloskey's failure to disclose or receive approval to use his unapproved email address to communicate with a firm customer, the firm was unable to review and preserve the email communications McCloskey sent to or received from the customer. 
Finally, the complaint alleges that McCloskey falsely responded to four questions on a personal activity questionnaire that his firm submitted to FINRA. McCloskey misled FINRA on the questionnaire by falsely attesting that while associated with a member firm he had not received any complaints against him from a customer during the past 12 months, utilized a third-party communication system, such as a third-party email address to communicate with customers, engaged in any PSTs, prepared and distributed personalized account statements, consolidated statements or performance reports separate and apart from the account statements prepared and distributed by his member firm.
Furthermore, the complaint alleges that McCloskey falsely stated on his annual compliance questionnaire that he had not solicited, sold, or participated in any PSTs during the past 12 months.
The complaint is still pending. Schmitz has three other disclosures on his BrokerCheck report.
---
October 2019 Employment Separation After Allegations
Firm Name:

WestPark Capital Inc.

Termination Type:

Permitted to Resign

Allegations:

Failure to follow heightened supervision plan
---
April 2018 Customer Dispute
Status:

Pending

Allegations:

Client alleges misrepresentation, suitability concerns, and high fees.

Damage Amount Requested:

$20,000.00
---
May 2017 Regulatory Judgment
Status:

Final

Initiated By:

FINRA

Allegations:

Without admitting or denying the findings, McCloskey consented to the sanctions and to the entry of findings that he participated in a series of private securities transactions without providing written notice to or receiving approval from his member firm to engage in such activity. The findings stated that specifically, McCloskey, without his firm's approval, personally invested $50,000 in a lighting and energy networking company, and they invested a total of $50,000. McCloskey did not receive any selling compensation. 

Resolution:

Acceptance, Waiver & Consent (AWC)

Sanctions:

Civil and Administrative Penalty(ies)/Fine(s)

Amount:

$5,000.00

Sanctions:

Suspension

Registration Capacities Affected:

Any Capacity

Duration:

15 business days

Start Date:

6/5/2017

End Date:

6/23/2017

Regulator Statement:

Fines paid in full on January 17, 2018. 

Broker Comment:

In 2008, I received approval from my former BD's compliance department to personally invest in a local company, but when asked by FINRA to provide evidence of approval, I could not locate or obtain a copy of the approval notification. In 2009, I conversationally told two clients about my investment in this company, and thereafter, and of their own accord and without my prior knowledge, they subsequently invested with the same company; I was not compensated in any way. Due to the fact that I did not solicit these investments as well as the lack of my involvement in any aspect of their respective investments, I did not obtain prior BD written approval. While I have accepted the terms of the AWC, after years of time and costs, I've chosen to settle this matter rather than fight an expensive regulatory proceeding.
---
Contact Us Today
The Sonn Law Group is currently investigating allegations that Walter McCloskey committed misconduct. We represent investors in claims against negligent brokers and brokerage firms. If you or your loved one experienced investment losses, we are here to help. For a free consultation, please call us now at 866-827-3202 or complete our contact form.