Hafen allegedly defrauded clients out of more than $1.6 million. 
The Sonn Law Group is investigating allegations that Elias Hafen committed fraud. If you or a family member has suffered losses investing, we want to discuss your case. Please contact us today for a free review of your case.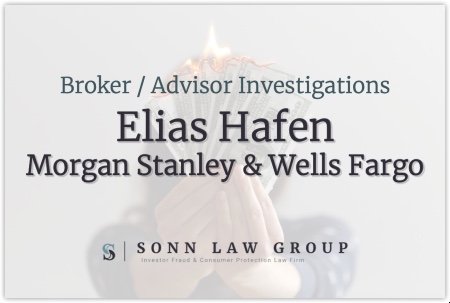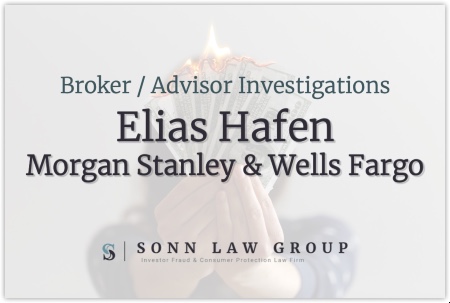 Elias Hafen was sentenced to 30 months in prison for defrauding his clients out of over $1.6 million. Hafen pled guilty to one count of investment advisor fraud.
The complaint alleged that between 2011 and 2018, Hafen engaged in a scheme to defraud 11 customers into believing that he was able to access a high-yield investment fund with guaranteed returns. He told them the fund was not affiliated with Morgan Stanley, the firm he was employed with during the relevant time period. 
On Hafen's advice, the clients transferred approximately $1.6 million directly to his personal bank account for investment in the purported investment fund, the U.S. Attorney's Office said in a release. He also created fictitious "Investor's Statements" that bore the name of a nonexistent investment company and purported to detail the status of his victims' investments.
In 2018, Hafen moved from Morgan Stanley to Wells Fargo, which fired him in August 2018 after he admitted into entering into financial arrangements with clients who were not approved by the firm. The Financial Industry Regulatory Authority Inc. barred him from the securities industry in October 2018.
Hafen began his career in 1979 with Merrill Lynch and worked with five other firms prior to joining Morgan Stanley.
Contact Us Today
The Sonn Law Group is currently investigating allegations that Elias Hafen committed fraud. We represent investors in claims against negligent brokers and brokerage firms. If you or your loved one experienced investment losses, we are here to help. For a free consultation, please call us now at 866-827-3202 or complete our contact form.