FINRA alleged that Trujillo acted unreasonably in the face of information indicating violative trading practices.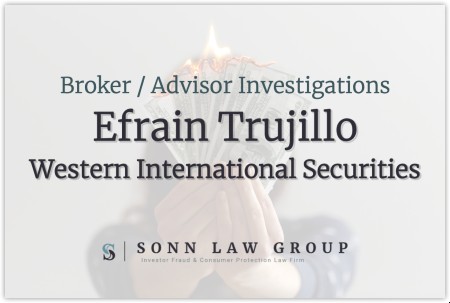 Efrain Trujillo (CRD#: 3106482) is registered as a broker and investment adviser with Western International Securities, where he has been employed since 2017. Previously, Trujillo was registered as a broker with Financial West Group, who has since been expelled by FINRA.
Trujillo has two disclosures on his BrokerCheck report.
November 2020 Regulatory Judgment
Status:

Final

Initiated By:

FINRA

Allegations:

Without admitting or denying the findings, Trujillo consented to the sanctions and to the entry of findings that he failed to supervise registered representatives formally with his member firm, who excessively traded and recommended qualitatively unsuitable trades involving options, low-priced securities, and Non-Traditional Exchange Traded Products (ETPs) in accounts belonging to customers. The findings stated that Trujillo failed to investigate red flags indicative of trading misconduct and take appropriate action in a manner reasonably designed to ensure that the representatives acted in compliance with FINRA rules. A firm compliance principal specifically informed Trujillo of red flags indicative of excessive trading in the accounts of customers. In addition, in the face of information indicative of violative trading practices, Trujillo acted unreasonably by failing to further scrutinize the conduct of the representatives. Trujillo was aware of but failed to investigate and address specific red flags indicating trading misconduct suggestive of excessive trading and qualitatively unsuitable recommendations in violation of FINRA's suitability rules, including the suitability rules relating to options trading.

Resolution:

Acceptance, Waiver & Consent (AWC)

Sanctions:

Bar

Registration Capacities Affected:

Any principal

Duration:

Indefinite

Start Date:

11/17/2020

Sanctions:

Civil and Administrative Penalty(ies)/Fine(s)

Amount:

$20,000.00
---
May 2016 Customer Dispute
Status:

Settled

Allegations:

Client upset with suitability of recommendations in 2015.

Damage Amount Requested:

$45,474.00

Settlement Amount:

$45,474.00

Broker Comment:

The settlement with the [Customer] resulted from the account being down to a temporary fluctuation in the market. As a matter of principle and a business decision, I agreed to settle with the [Customer] to avoid a dispute.
---
Contact Us Today
The Sonn Law Group is currently investigating allegations surrounding Efrain Trujillo. We represent investors in claims against negligent brokers and brokerage firms. If you or your loved one experienced investment losses, we are here to help. For a free consultation, please call us now at 866-827-3202 or complete our contact form.