Matthes was barred by the Wisconsin Department of Financial Institutions in May 2019. 
The Sonn Law Group is investigating allegations that Edward Matthes committed fraud. If you or a family member has suffered losses investing, we want to discuss your case. Please contact us today for a free review of your case.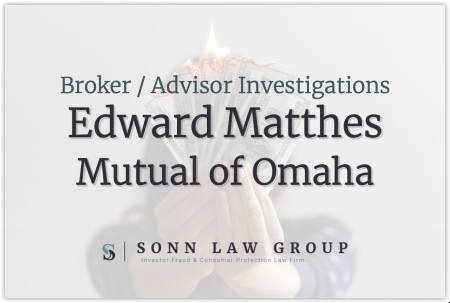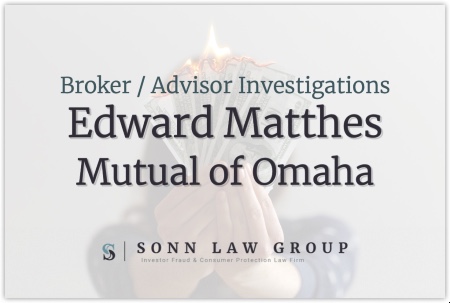 Edward Earl Matthes was affiliated with Mutual Omaha Investors Services for seven years as a broker. Matthes allegedly convinced over twenty clients to invest in a fake "safe fixed investment" yielding at least 4% a year over a six-year period. The SEC filed a complaint against Matthes for fraud. 
Some customers financed the purchase of the investments by selling variable annuity contracts Matthes had sold them, incurring surrender fees. Some customers also sold life insurance, real estate and securities managed by another investment advisor. 
Matthes allegedly collected approximately $1.4 million for the "investment," stole more than $1 million by making unauthorized sales and withdrawals from some customers' annuities, according to the SEC's complaint. In some forms, he included the routing and account number for his personal bank account on some of the client's application forms. 
Instead of investing the money, Matthes spent approximately $2.17 million of the proceeds to pay child support, personal credit card expenses, mortgage and car debt, luxury personal items, and home renovation expenses. He kept the scheme alive for approximately six years by making Ponzi-like payments of $170,000 to some investors. 
In March 2019, one of Matthes's customers filed a FINRA complaint about a false account statement. FINRA barred him for failing to cooperate with their investigation into the matter. Then, he was permanently barred by the state of Wisconsin in May for creating false investments and account forms. 
Matthes consented to the entry of the SEC's judgment without admitting or denying its allegations. The settlement requires him to pay disgorgement, prejudgment interest, and penalties in amounts to be determined by the federal district court in the Eastern District of Wisconsin at a later date, the SEC said.
Contact Us Today
The Sonn Law Group is currently investigating allegations that Edward Matthes committed fraud. We represent investors in claims against negligent brokers and brokerage firms. If you or your loved one experienced investment losses, we are here to help. For a free consultation, please call us now at 866-827-3202 or complete our contact form.