The SEC's complaint alleges that Kellen defrauded his clients over a period of several years.
The Sonn Law Group is investigating allegations that Donald Kellen defrauded clients. If you or a family member has suffered losses investing, we want to discuss your case. Please contact us today for a free review of your case.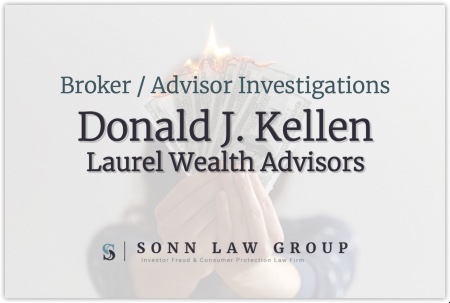 Donald Kellen was charged by the SEC on April 28, 2020, for conducting a multi-year cherry-picking scheme that defrauded his clients. 
According to the SEC's complaint, from about May 2012 through September 2015, Kellen profited at his clients' expense by cherry-picking profitable trades using an omnibus account, which is intended to facilitate purchases of securities for multiple client accounts.
Cherry-picking involves the practice of allocating winning trades to the adviser's own account or to specific clients, and it is banned by the SEC. Cherry-picking occurs when investment managers select specific profitable or unprofitable trades and allocate them in a manner of their choosing. For example, the investment manager might allocate the profitable trades to his own account and the unprofitable trades to a client's account.
The SEC alleged that Kellen delayed allocating the securities from the omnibus account to individual client accounts until after he observed the securities' price movement over the course of the trading day. He then allocated profitable trades to his own accounts and allocated the losing trades to his clients' accounts.
The SEC is requesting that the court find against Kellen, issue judgments enjoining him from committing further securities violations, order disgorgement of all funds received from his illegal conduct plus prejudgment interest, and the payment of civil penalties. 
Contact Us Today
The Sonn Law Group is currently investigating allegations that Donald Kellen defrauded clients. We represent investors in claims against negligent brokers and brokerage firms. If you or your loved one experienced investment losses, we are here to help. For a free consultation, please call us now at 866-827-3202 or complete our contact form.