Serizawa, currently employed by Woodbury Financial, is accused of selling GPB private placements.
The Sonn Law Group is investigating allegations that Daryl Serizawa recommended private placements with GPB Capital Holdings. If you or a family member has suffered losses investing, we want to discuss your case. Please contact us today for a free review of your case.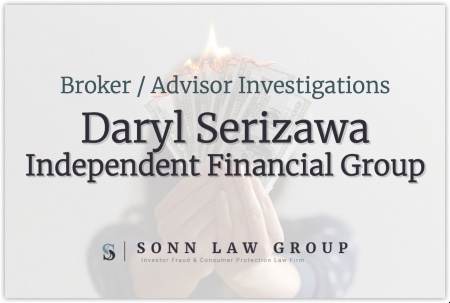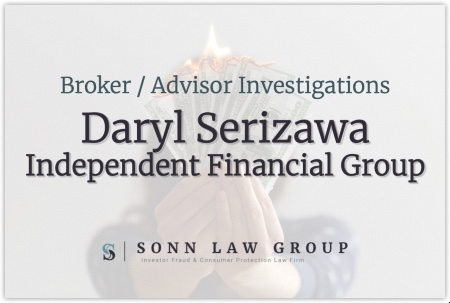 Daryl Serizawa (CRD#: 2293939) has been employed by Woodbury Financial Services in Irvine, CA since 2017. Previously, he was registered with Independent Financial Group in Irvine, CA from May 2012 until July 2017. 
In December 2019, Serizawa was named in a customer dispute alleging the inappropriate sale of private investment funds. The customers are seeking $350,000 in damages. The matter is still pending. 
Serizawa is one of many financial representatives who sold GPB Capital investments to customers. 
GPB Capital Holdings is a New York-based investment firm that offers exempt, private-placement securities. These investments inherently have a high degree of risk due to their nature as unregistered securities offerings (and without regulatory oversight).
The investment firm raised $1.8 billion from investors through private placements that invested in automotive dealerships, the waste management industry, and middle-market lending. These investments were high risk and high commission (nearly 8%) private placements.
GPB Capital has been embroiled in legal disputes in the recent past. In November 2019, GPB informed investors that they would not be supplying the audited financial reports by their deadline, even though investors have been awaiting the audits since April. Additionally, GPB has missed multiple SEC filing deadlines and the SEC has hinted towards possibly charging GPB in the future.
Also in November 2019, an investor filed a class-action lawsuit against GPB, its lead underwriters, several individuals, and other entities alleging securities fraud. There are also lawsuits brought by two former GPB business partners.
David Rosenberg, the former Prime Automotive CEO, was fired by GPB after he sought to expose GPB's fraudulent activity. Rosenberg claims he should not have been terminated. Based on Rosenberg's removal, Volkswagen has also filed suit against GPB claiming breach of contract. Todd Skelton, former CEO of AutoNation is the new CEO of Prime Automotive.
GPB investor fraud claims have been filed against several brokers and their brokerage firms, including Arkadios Capital, Kalos Capital, and Woodbury Financial. 
Contact Us Today
The Sonn Law Group is currently investigating allegations that Daryl Serizawa recommended investments in GPB Capital Holdings We represent investors in claims against negligent brokers and brokerage firms. If you or your loved one experienced investment losses, we are here to help. For a free consultation, please call us now at 866-827-3202 or complete our contact form.