Dain Stokes was terminated in August 2019 for allegedly selling unregistered promissory notes to clients that purported to invest in an African charity.
The Sonn Law Group is investigating allegations that Dain Stokes committed misconduct. Under FINRA Rules, brokerage firms are liable for their brokers' misconduct or negligence and investors may be able to their investment through FINRA arbitration. Contact Sonn Law Group today or call us at 866–827–3202 for a free consultation.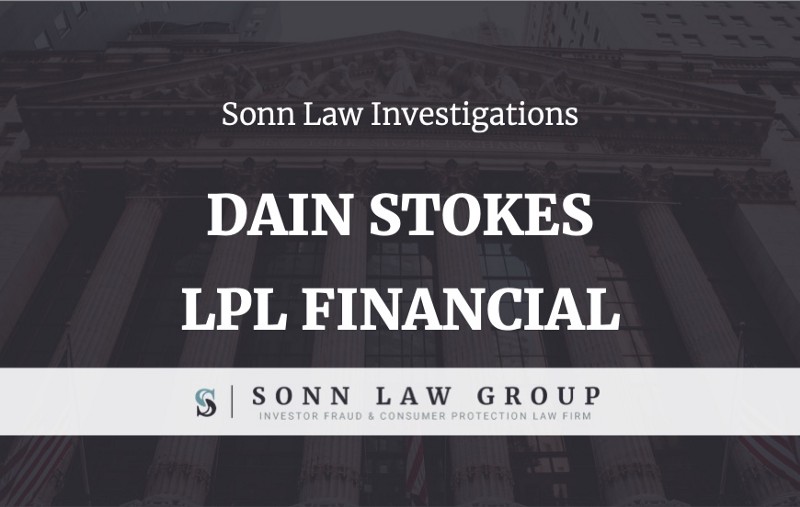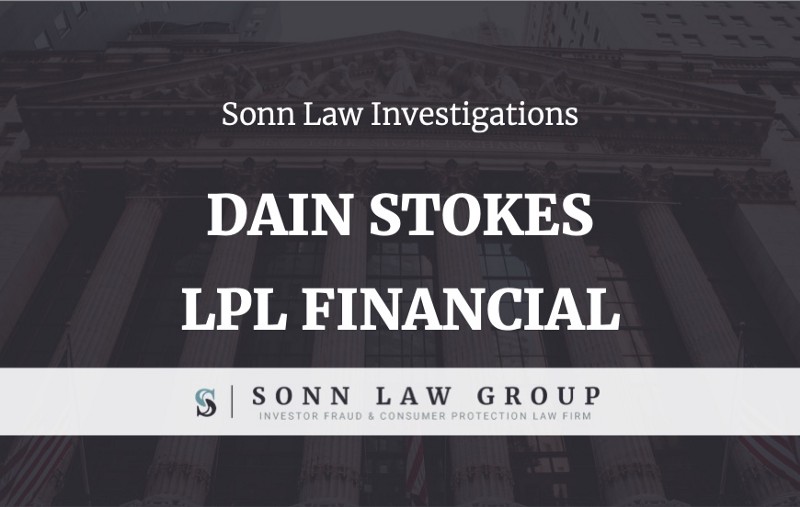 Dain Stokes (CRD#:2960801) was a broker for LPL Financial from 2009 until 2019, when he was terminated. Before his termination, he was fined $20,000 and ordered to pay $201,000 in restitution by the New Hampshire Bureau of Securities Regulation ("Bureau"). The Bureau stated in their findings that on August 1, 2019, a client of Stokes' filed a police report alleging fraud related to a $201,000 investment project. The client provided copies of cancelled checks, unsecured promissory notes, and text messages to the Policy Department that corroborated the complaint. The complaint alleges that the investment was for an alleged project in Africa purportedly involving pop star Taylor Swift.
According to the police report, the Representative approached client for an investment in an "outside project" where the Representative was in charge of the "financial end of the project". On three occasions, client wrote checks payable to Representative who in return executed unsecured promissory notes promising returns. Upon information and belief, Representative did not utilize the monies invested by client as intended.
According to the complaint, Stokes used fraudulent messages to continue to entice the investor, including:
On November 29, 2018, Stokes is claimed to have wrote: "We are getting close, a week, maybe two, I just had a long talk with Taylor about it in the middle of the night lol."
On May 8, 2019, Stokes is claimed to have wrote: "Taylor is meeting with Bill Gates and the rest of the sponsors who are paying out the commissions on May 20th to try to wrap things up, so we all get paid."
On June 12, 2019, Stokes is claimed to have wrote: "Trump's illegally locked my bank accounts, and I'm fighting it in the Federal Bank Commission in the New Hampshire AG's Office. Taylor is releasing a new song on Instagram in 30 minutes and I'm promoting it."
In September 2019, Stokes was barred by FINRA for failing to respond to a request for information.
Stokes is also facing another customer dispute brought in October of 2019. The claimant alleges suitability issues through misrepresentation and poor advice. This dispute is still pending.
Stokes entered the securities industry in 1998. From June 2009 until September 2019, Stokes was registered with LPL Financial out of the firm's Bedford, New Hampshire office location.
The Sonn Law Group is currently investigating allegations that brokers recommended unsuitable investments. We represent investors in claims against negligent brokers and brokerage firms. If you or your loved one experienced investment losses, we are here to help. For a free consultation, please call us now at 866-827-3202 or complete our contact form.