The pair is accused of soliciting investors through misrepresentations of firm performance and Coggins' experience.
The Sonn Law Group is investigating allegations that David Coggins committed fraud. If you or a family member has suffered losses investing, we want to discuss your case. Please contact us today for a free review of your case.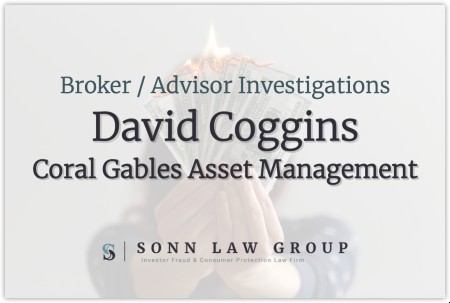 David Coggins and the company he owns, Coral Gables Asset Management LLC, were named as defendants in an emergency action filed by the SEC, in connection with an alleged fraudulent offering. U.S. District Court Judge Kathleen M. Williams granted the SEC's request for emergency relief, including an asset freeze and an order to preserve records. 
The SEC's complaint alleged that Coggins and Coral Gables solicited investors for a private fund they managed by misrepresenting the fund's past performance, the amount of assets they were managing, and Coggins' experience as a portfolio manager. For example, the complaint alleges that one document Coggins provided to investors and potential investors showed 37 months of positive monthly performance even though, in reality, in approximately 26 months during the specified timeframe the Fund had negative performance. 
The complaint further alleges that Coral Gables and Coggins falsified brokerage records and investor account statements and created and sent fake audit opinions to investors and third parties. As alleged, within hours of receiving a request from the SEC to preserve documents, Coggins destroyed evidence related to his fraudulent conduct. According to the complaint, Coggins misappropriated investor funds for personal use, including a luxury vehicle and travel.
The SEC's complaint charges Coral Gables and Coggins with violating the antifraud provisions of Section 17(a) of the Securities Act of 1933, Section 10(b) of the Securities Exchange Act of 1934 and Rule 10b-5 thereunder, and Sections 206(1), 206(2), and 206(4) of the Investment Advisers Act of 1940 and Rule 206(4)-8 thereunder. The SEC's complaint also charges Coggins with aiding and abetting Coral Gables' violations of the Advisers Act. The SEC is seeking injunctions, disgorgement of allegedly ill-gotten gains with prejudgment interest, and financial penalties against the defendants. The SEC also charged Coral Gables Asset Holdings, L.P. and its successor entity, Coral Gables Capital, L.P., as relief defendants.
Contact Us Today
The Sonn Law Group is currently investigating allegations that David Coggins committed fraud. We represent investors in claims against negligent brokers and brokerage firms. If you or your loved one experienced investment losses, we are here to help. For a free consultation, please call us now at 866-827-3202 or complete our contact form.