Burchard was terminated by Allstate in May 2019.
The Sonn Law Group is investigating allegations that Charles Burchard engaged in an undisclosed business activity. If you or a family member has suffered losses investing, we want to discuss your case. Please contact us today for a free review of your case.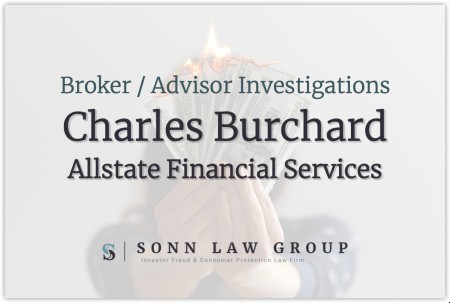 Charles ("Chuck") Burchard (CRD#: 6130918) was registered as a broker with Allstate Financial Services from February 2013 until May 2019, when he was terminated based on allegations of "engaging in undisclosed outside business activity and disclosure of confidential customer information to unaffiliated third party in violation of Allstate contract, guidelines and policies.
Burchard has one other disclosure on his BrokerCheck report.
August 2020 Regulatory Judgment
Status:

Final

Initiated By:

FINRA

Allegations:

Without admitting or denying the findings, Burchard consented to the sanction and to the entry of findings that he refused to produce information and documents requested by FINRA during the course of its investigation into his termination from his member firm. The findings stated that the firm filed a Form U5 reporting that Burchard was terminated because its parent insurance company terminated him in light of allegations that he engaged in undisclosed outside business activity and had disclosed confidential customer information to an unaffiliated third party.

Resolution:

Acceptance, Waiver & Consent (AWC)

Sanctions:

Bar

Registration Capacities Affected:

All Capacities

Duration:

Indefinite

Start Date:

8/24/2020
---
Contact Us Today
The Sonn Law Group is currently investigating allegations that Charles Burchard engaged in outside business activities. We represent investors in claims against negligent brokers and brokerage firms. If you or your loved one experienced investment losses, we are here to help. For a free consultation, please call us now at 866-827-3202 or complete our contact form.