Seelye, a Minnesota resident, is a call center manager and was charged with conspiracy to commit mail and wire fraud.
The Sonn Law Group is investigating allegations that Charatie Seelye committed fraud. If you or a family member has suffered losses investing, we want to discuss your case. Please contact us today for a free review of your case.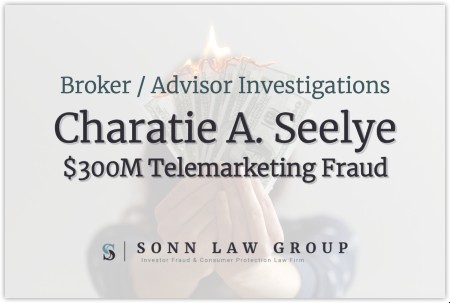 Charity Seelye is the manager for a call center in Pekin, Minnesota and was named as a defendant, along with 42 others, in the case United States v. Rahm, et al. The case charges the defendants with carrying out a conspiracy to use the fraudulent renewal scripts to defraud more than 125,000 victims out of over $300 million.
The scheme was allegedly carried out by a network of dozens of fraudulent magazine sales companies located in the U.S. and Canada. The companies operated telemarketing call centers and their employees used deceptive sales scripts in order to defraud victims by inducing them into making large or repeat payments to the company. Seelye specifically is accused of training telemarketers to  use fraudulent sales scripts to defraud victim-consumers.
The indictments in the case allege that some of the defendants used a "cancellation script", which targeted people who had previously been the victim of a fraudulent magazine sales scam. By taking advantage of the victims' desperation to end the magazine subscriptions, the defendants used the cancellation script by falsely claiming to be from the cancellation department of the magazine company.
The defendants allegedly offered to consolidate and cancel the victims' magazine  subscriptions and pay off their "outstanding balance" in exchange for a lump-sum payment. Despite their claims, the defendants companies had no relationship with the victims and the victims did not owe any money to the magazine company. Instead, the defendants are accused of stealing money from the victims.
Erica McDonald, the U.S. Attorney for the District of Minnesota, stated, "More than 150,000 elderly and vulnerable victims across the United States have been identified in what is essentially a criminal class action. . . . Combatting elder fraud and abuse is one of the Justice Department's top priorities and I applaud our investigative partners for their grit and dedication in tackling, at the systemic level, this widespread fraud."
In addition to Seelye's case, there are two other indictments against defendants for their alleged roles in the telemarketing fraud scheme. United States v. Timmerman et al., 20CR-233, charges nine defendants who worked for a Canadian call center that used cancellation scripts with defrauding more than 20,000 victim-consumers in the United States out of approximately $30 million.
In United States v. Timmerman et al., 20-CR-233, charges eight defendants out of Mississippi and Georgia with using a cancellation script to defraud more than 13,000 victim-consumers of approximately $4.5 million.
Although Willy owns Queen B Advisors, the broker dealer is barred from any discretionary trading in client accounts and from recommending alternative investments for a period of five years.
Contact Us Today
The Sonn Law Group is currently investigating allegations that Charatie Seelye committed fraud. If you or your loved one experienced investment losses, we are here to help. For a free consultation, please call us now at 866-827-3202 or complete our contact form.