Mascho allegedly assisted Dawn Bennett in Ponzi-like scheme, raising over $20 million.
The Sonn Law Group is investigating allegations that Bradley Mascho assisted in Ponzi scheme. If you or a family member has suffered losses investing, we want to discuss your case. Please contact us today for a free review of your case.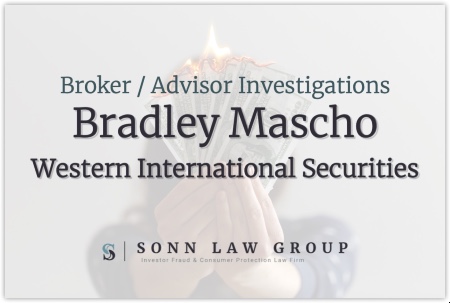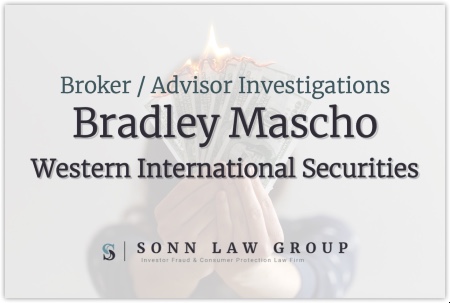 Bradley Mascho was registered with Western International Securities from 2009 until 2017. Mascho was recently barred by SEC after allegations that he assisted convicted felon, Dawn Bennett, in a Ponzi scheme.
Bennett, a former financial advisor and radio host, was sentenced to 20 years in prison for fraud this summer. 
The SEC allegations stated that Mascho assisted Bennett in a Ponzi scheme that raised over $20 million from over 46 investors. Mascho pleaded guilty in June to conspiracy to commit securities fraud and making a false statement before the U.S. District Court of the District of Maryland. He was sentenced to 30 months in prison followed by three years of supervised release. 
FINRA had previously barred Mascho in January 2018 for failing to appear for testimony regarding an investigation into possible fraud, undisclosed business activities, and private securities transactions. 
Contact Us Today
The Sonn Law Group is currently investigating allegations that Bradley Mascho participated in a Ponzi-like scheme. We represent investors in claims against negligent brokers and brokerage firms. If you or your loved one experienced investment losses, we are here to help. For a free consultation, please call us now at 866-827-3202 or complete our contact form.