Snyder is accused of making excessive and unauthorized trades.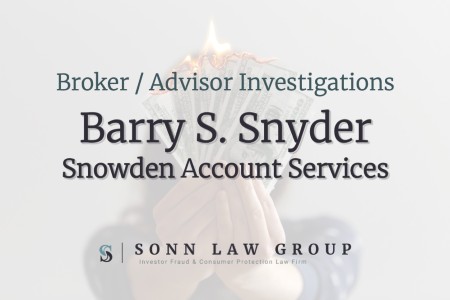 Barry Steven Snyder (CRD#: 2385901) was registered as a broker with Snowden Account Services from September 2019 until September 2020. Previously, Snyder was registered with Lampost Capital from August 2018 until September 2019.
Snyder has three disclosures on his BrokerCheck report. 
August 2019 Customer Dispute
Status:

Pending

Allegations:

Customer alleges excessive and unauthorized trading. Activity dates 12/06/2013-01/31/2015. This has moved to Arbitration. Customers allege investment strategy recommended was not in their best interests, and certain trades were made without their authorization. Activity dates 12/06/2013-01/31/2015.

Damage Amount Requested:

$500,000.00
---
November 2018 Customer Dispute
Status:

Award / Judgment

Allegations:

Barry Snyder was named in a customer complaint that asserted the following causes of action: common law fraud; constructive fraud; negligent misrepresentation; breach of fiduciary duty; negligent management; negligent supervision; and fraudulent concealment.

Damage Amount Requested:

$4,093,067.00
---
August 2013 Employment Separation After Allegations
Firm Name:

Credit Suisse Securities (USA) LLC

Termination Type:

Discharged

Allegations:

Concerns relating to the accuracy of records regarding certain orders the representative said he took from customers.
---
Contact Us Today
The Sonn Law Group is currently investigating allegations surrounding Barry Steven Snyder. We represent investors in claims against negligent brokers and brokerage firms. If you or your loved one experienced investment losses, we are here to help. For a free consultation, please call us now at 866-827-3202 or complete our contact form.