Pitsironis is accused of defrauding former clients of more than $400K.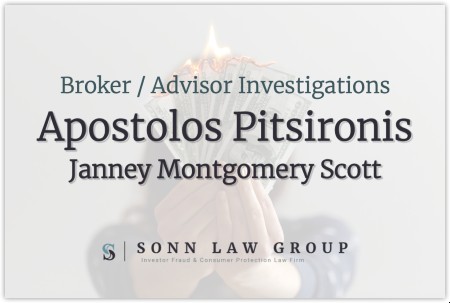 Apostolos Pitsironis (CRD#: 2804907) was registered as a broker with Janney Montgomery Scott from December 2018 until June 2019. Previously, Pitsironis was registered with Wells Fargo from May 2012 until December 2018.
On February 10, 2021, a criminal complaint was unsealed charging Pitsironis with defrauding former clients of over $400,000 and using the funds to pay his personal expenses. Seth DuCharme, Acting United States Attorney for the Eastern District of New York stated, "[t]he defendant stole hundreds of thousands of dollars from investors to pay his personal debts, violating the trust they had placed in him to manage their money safely and honestly."
FBI Assistant Director-in-Charge William Sweeney Jr. stated, "Pitsironis, as alleged, transferred more than $400,000 from the investment account of a couple who trusted him to manage their portfolio directly into bank accounts he controlled. He later used this money to pay his family's personal expenses, all the while deceiving both his victims and the financial services firm for whom he worked. Financial advisors have a significant responsibility to appropriately manage the life savings of those who put their faith in them. Anyone who falls short on this front by engaging in illegal practices should, and will, be held accountable to the fullest extent of the law."
According to the allegations, Pitsironis managed the investments of a Long Island couple beginning in 2009. In May of 2019, Pitsironis allegedly initiated 22 transfers totaling over $400,000 from one of the victim's accounts to his own account at another financial institution. Pitsironis is also accused of lying to his employer about the transfers. Pitsironis faces 20 years in prison if convicted.
Contact Us Today
The Sonn Law Group is currently investigating allegations surrounding Apostolos Pitsironis. We represent investors in claims against negligent brokers and brokerage firms. If you or your loved one experienced investment losses, we are here to help. For a free consultation, please call us now at 866-827-3202 or complete our contact form.