Perri is also accused of making misrepresentations to his client.
The Sonn Law Group is investigating allegations that Andrew Perri made unsuitable investment recommendations. If you or a family member has suffered losses investing, we want to discuss your case. Please contact us today for a free review of your case.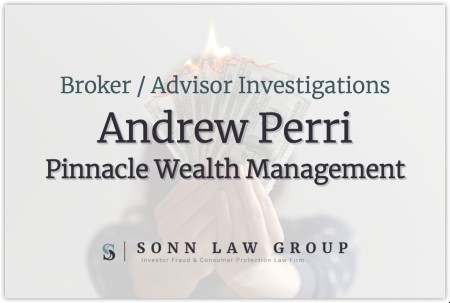 Andrew Perri (CRD#: 2801727) is currently registered as an investment adviser with Pinnacle Wealth Management, where he has been employed since 2013. Previously, he was registered as a broker and investment adviser with Berthel Fisher & Company from 2010 until 2016.
Perri has two disclosures on his BrokerCheck report.
June 2020 Customer Dispute
Status:

Pending

Allegations:

The client alleges the investment he purchased in 2015 were unsuitable and misrepresented to him by the representative. The client also alleges the firm failed to supervise the actions of the representative and failed to conduct adequate due diligence.
---
November 2007 Employment Separation After Allegations
Firm Name:

Sigma Financial Corporation

Termination Type:

Discharged

Allegations:

Failure to comply with firm sales submission procedures
---
Contact Us Today
The Sonn Law Group is currently investigating allegations that Andrew Perri recommended unsuitable investments. We represent investors in claims against negligent brokers and brokerage firms. If you or your loved one experienced investment losses, we are here to help. For a free consultation, please call us now at 866-827-3202 or complete our contact form.